Born and raised in Dover, New Hampshire, Carys Fennessy started playing golf when she was just four years old, playing with a plastic club in her back yard.
Not only did Carys quickly absorb the fundamentals of golf from her dad (Dover High School golf coach Matt Fennessy), she showed a natural talent and instinct for the nuances of mechanics and strategy. As a young player, Carys' father would bring her along to team practices where she would watch the players and offer feedback to her dad – and Coach Fennessy knew to listen!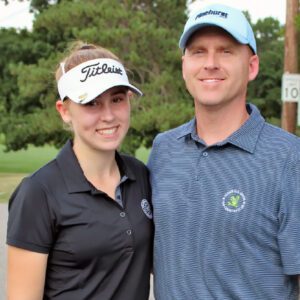 Carys Fennessy started competing at the age of eight. At the age of twelve, she won the New Hampshire Women's Golf Association (NHWGA) Junior Championship. She won it again in 2020 at the age of thirteen, the same year she won Cochecho Country Club's Women's Club Championship.
In her freshman year of high school, Carys medaled in eight of her ten varsity matches and achieved the lowest scoring average that Dover High School had seen in 35 years. She played a total of 15 events that season and won seven of them. Carys finished under par in four rounds that season, including a career tournament best of 67 (5 under par) in the State Amateur Championship where she finished third overall.
Carys won Best in State at the 2021 NHIAA Girls Golf Individual Championship. In 2022, she came back from a head injury to defend her title as a sophomore. Her goal is to win the girls' state championship four times.
In the spring of 2022, Carys Fennessy received a proclamation from the mayor of Dover for her achievements. Carys' success and skill level are particularly exceptional for a golfer from the northeast where the playing season is much shorter than in other parts of the country. Her talent is enviable, her attitude refreshing, and her work ethic commendable.