Congratulations to Jon Dumais on capturing the 2023 Cochecho Country Club Junior Club Championship!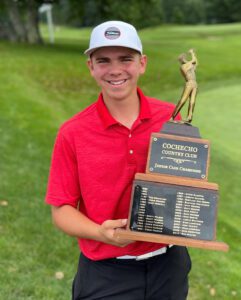 After 18 holes of competition, Jon found himself tied for first place at the 2023 Cochecho Country Club Championships on Saturday, July 8th. Jon kept his cool and birdied the first sudden death hole to take 2023 title. This is Jon's second year in a row winning the Junior Championship at Cochecho Country Club.
Jon Dumais is a SJGA golfer and plays for Dover High School. He has been nominated for the 2023 Seacoast Golfer of the Year in the Seacoast Sports Awards (part of the USA TODAY High School Sports Awards) and he has been named One to Watch by the Portsmouth Herald.
Well done, Jon! We look forward to seeing your 2023 season unfold!